Avoid downtime, data loss and security breaches at a lower cost
Acronis Cyber Protect integrates backup and next-generation, AI-based antimalware and endpoint protection management into one solution. Integration and automation provide unmatched protection – increasing productivity while decreasing TCO.
Next-generation cybersecurity
Advanced AI-based behavioral detection engine for zero-day attack prevention
Reliable backup and recovery
Full-image and file-level backup, disaster recovery and metadata collection for security forensics
Integrated protection management
URL filtering, vulnerability assessments, patch management, and remote management are integrated and automated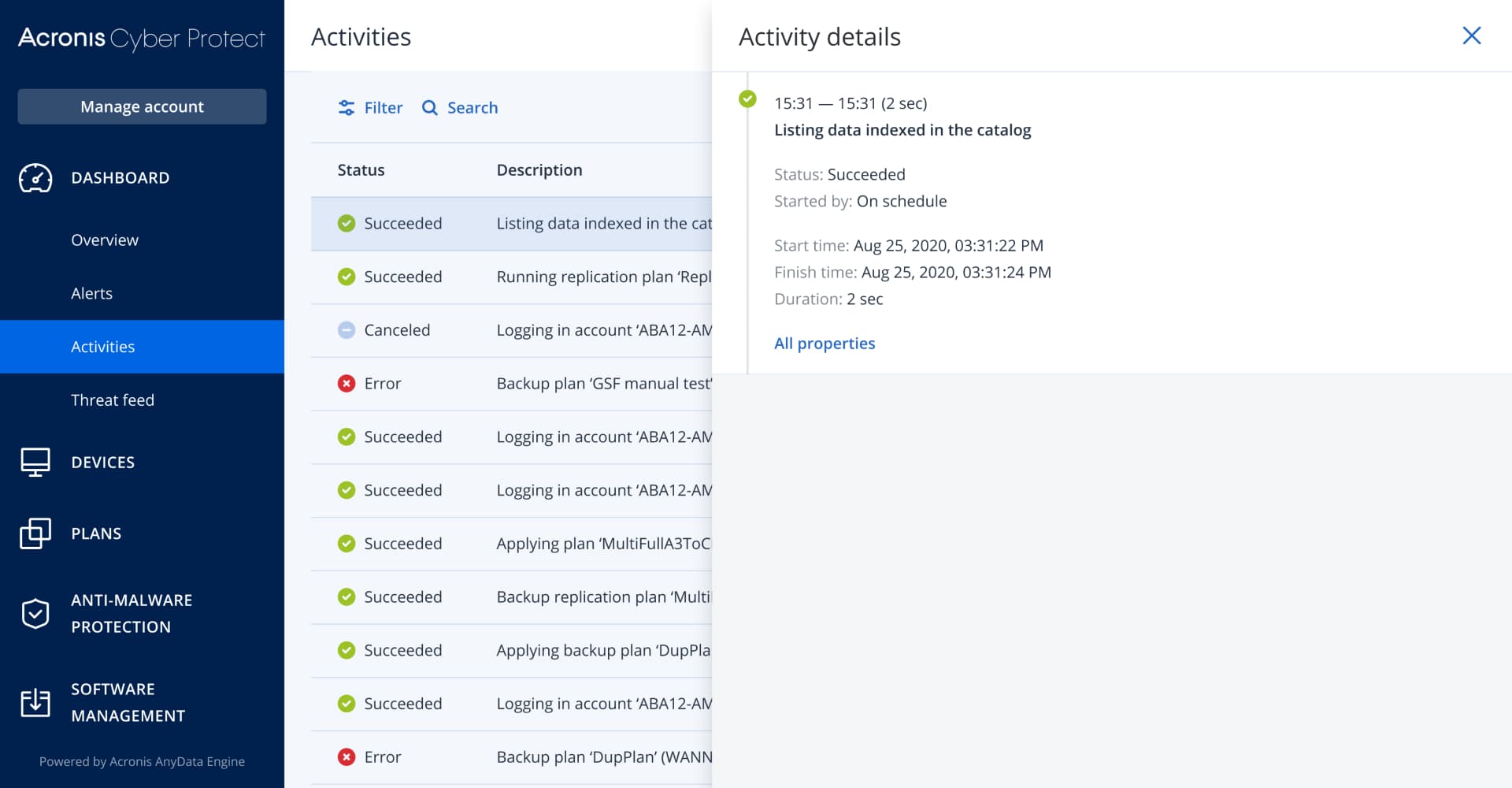 Integration and automation
No matter how great each individual solution might be, a patchwork of system and endpoint protection tools will create gaps in your defenses. Acronis Cyber Protect is a unified approach that eliminates those gaps.
One agent
Increases performance and avoids endpoint/agent conflicts
One license
Simplifies software license management
One license
Simplifies software license management
One backend
Reduces infrastructure needs
One console
Enables faster employee onboarding and maintenance
One experience
Simplifies the education of IT resources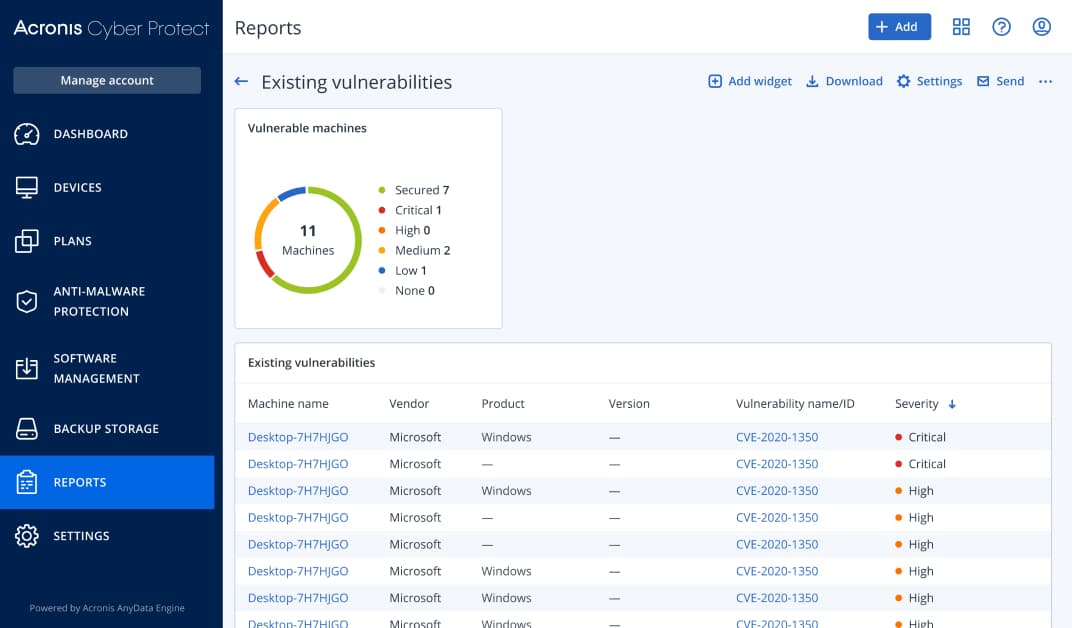 Eliminate complexity
The traditional stack of endpoint protection products lacks integration and requires much more time for management – maintaining licenses, installing updates and patches, verifying compatibility after updates, and managing multiple policies using a variety of different user interfaces.
Acronis Cyber Protect offers one agent, one management interface, and one license – removing the complexity and risks associated with non-integrated solutions.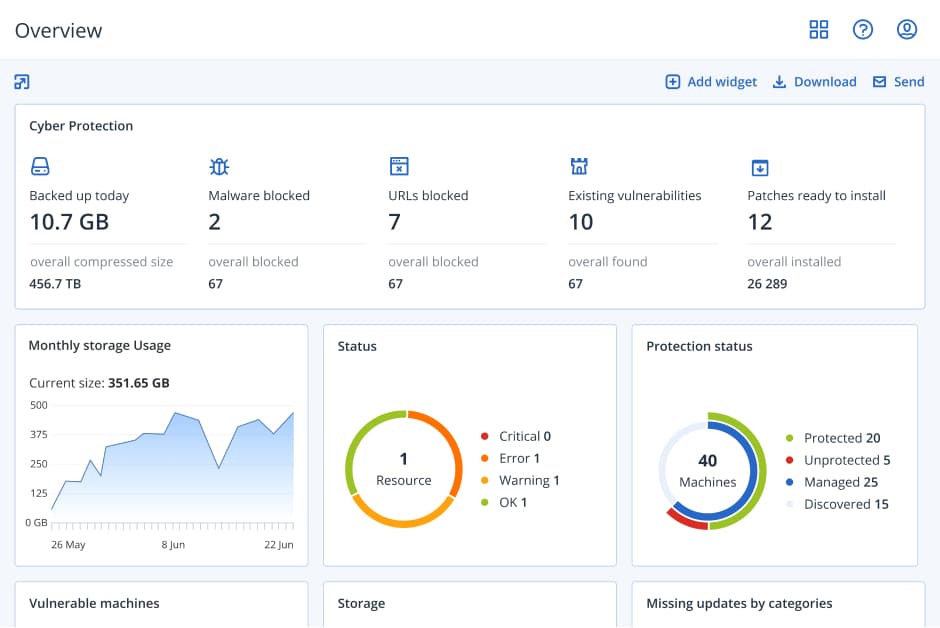 Minimize Incidents
Traditional antivirus and backup solutions are unable to protect against modern cyberthreats. Antimalware that is not integrated with backup lacks the ability to detect threats in a secondary copy. Backup that is not integrated with antimalware is vulnerable to modern ransomware strains that disable and corrupt backups.
With Acronis Cyber Protect, an AI-based threat detection engine leverages backup data to improve detection rates and avoid false-positives. The integration of advanced antimalware and backup allows the recovery of corrupt data automatically. Backups are protected against attacks on the agent and backup files, ensuring the data is clean.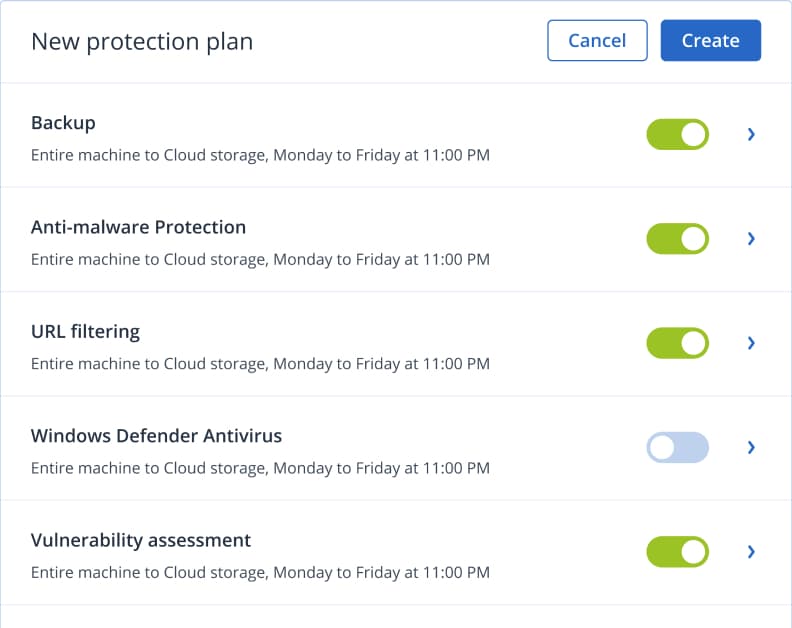 Increase productivity
A complex, non-integrated stack of endpoint solutions requires more time to learn and support, and does not benefit from integration and automation.
Unifying multiple protection technologies into one solution not only increases its reliability, it also decreases the time needed to learn, deploy, and maintain the solution. With Acronis Cyber Protect, you get one integrated solution that delivers complete protection from today's threats – enabling you to streamline management, cut unnecessary administrative time, and lower TCO.
Antimalware and antivirus
Proactively protect your data, applications, and systems from advanced cyberattacks. With Acronis Cyber Protect, you gain real-time protection with AI-based static and behavioral heuristic antivirus, antimalware, antiransomware, and anticryptojacking technologies.
Fail-safe patching
Eliminate the risk of bad patches rendering a system unusable. Before the latest patches are implemented, an image backup is automatically performed – enabling you to easily restore and roll back to a working state if there is an issue with a patch.
Forensic backup
Simplify future analysis by collecting digital evidence – like memory dumps and process information – from disk-level backups. With Acronis Cyber Protect's Forensic Mode, you'll manage compliance requirements and run faster internal investigations.
Safe Recovery
Avoid malware reinfection by automatically patching the machine and then scanning your system and backup images using the latest antimalware definitions.
Continuous data protection
Safeguard new data. Acronis' agent monitors every change made in the listed applications and continuously backs them up so recent changes aren't lost if the machine needs to be reimaged.
Global threat monitoring and smart alerts
Benefit from the global network of Acronis Cyber Protection Operation Centers (CPOC) by receiving real-time alerts on malware, vulnerabilities, natural disasters, and other global events that may affect data protection.
Data compliance reporting and data protection map
Ensure compliance reporting by getting detailed information about stored data and use automatic data classification to track the protection status of important files.
Global and local whitelists from backups
Scan backups with advanced antimalware technologies (AI, behavioral heuristics, etc.) and whitelist your organization's unique applications to avoid future false positives.




AV-Test participant and test winner
Cloud Security Alliance member